When it's time to take a moment to yourself and relax, mixing up a drink is the perfect way to get your self-care ritual started. Whether you like to sit back and become lost in the pages of a book, enjoy the company of friends, or draw a warm bath, choosing just the right drink can really maximize the experience.
Cannabidiol (CBD) has become more mainstream in the world of cocktails and other beverages, even making its way into restaurants and coffeeshops across the country. It's becoming even more sought-after because of it may induce relaxation without the less appealing effects of alcohol (more on that later!).
In this article, we're going to share some of the science behind CBD's calming effects, as well as share some of our favorite non-alcoholic CBD drink recipes.
Using CBD as an Alternative to Alcohol
Maybe you're looking for an alternative to alcohol, or you're here because you're excited about the potential health benefits of CBD. Let's look at how alcohol and CBD can affect the body.
Alcohol absorbs very quickly into the bloodstream, and can produce an almost immediate effect. Everybody metabolizes alcohol a bit differently, but after one drink, its effects can peak in 60-90 minutes. Drinking more than one serving an hour can lead to intoxication, and potentially dehydration…or the dreaded hangover.
CBD can be a great substitute for alcohol because it may reduce anxiety, but it doesn't lead to impairment and can't cause a hangover. It may lead to drowsiness for some people, so we recommend starting with smaller doses and seeing how you tolerate it before increasing the amount you take.
If you do decide to add CBD to an alcoholic drink, proceed with caution. When mixed, alcohol and CBD can amplify one another, and can make you feel even more sedated.
A Few Tips for Using CBD in Drinks
Before you start mixing CBD in your drinks, there are a few things to keep in mind so you can have the best possible experience.
CBD is oil-based, so when you're mixing it with a water-soluble drink, you might notice that it floats to the top. You can shake or stir it to mix it in, but you might notice that it can cling to ice cubes and your glass. Adjusting the dose to include a few more drops can make up for any "lost" in the process.
Pay attention to the dose on the bottle when determining how much to use. Some tinctures have as much as 2,000-3,000mg of CBD in each bottle, and only a few drops are needed. Because of that, we note in each recipe to use your desired amount of CBD to avoid being wasteful.
Since everyone is affected by CBD differently, take it slowly at first. Some users may feel its effects within 15-20 minutes, and others may take an hour or more.
On that note, some people may take it every day for a week or more before they begin to feel its effects, where others might feel it right away. If you don't feel the desired effects the first time you use it, keep in mind that it could take some time and consistency.
Most of the time, you won't be able to taste the flavoring in your CBD tincture when it's mixed with your drink. But that doesn't mean you can't harmonize your flavors and try different combinations!
You can multiply the recipes to make enough for a crowd, but don't add the tincture directly to the pitcher. Instead, mix the drinks as usual, then add the tincture to individual glasses to ensure consistency for each serving.
Without further ado, here are the recipes.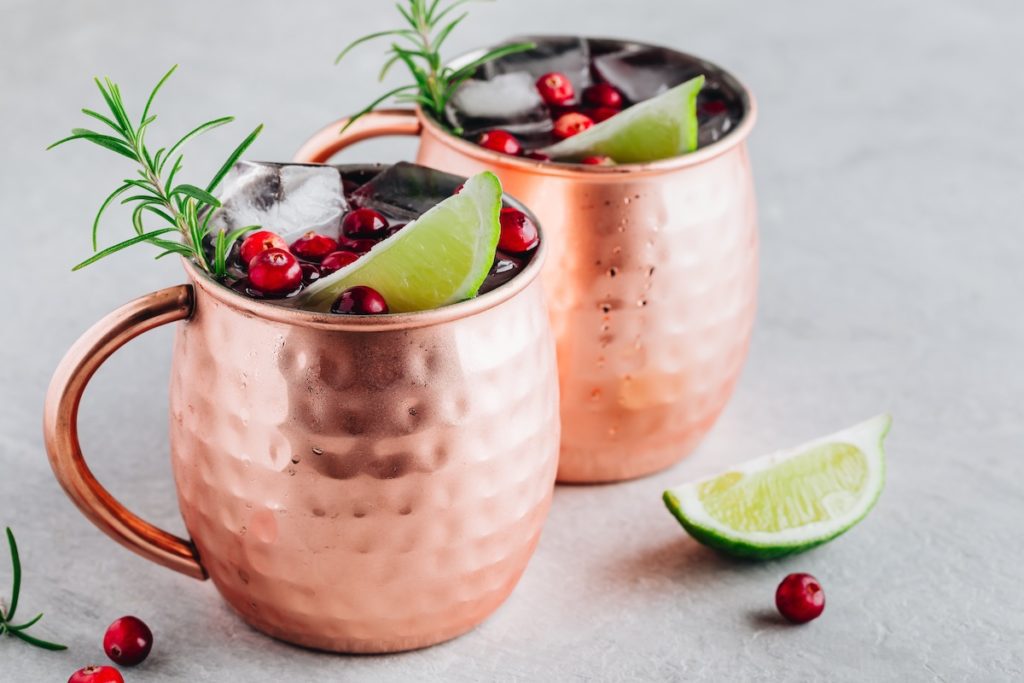 Cranberry CBD Mule
Our cranberry CBD mule recipe is the perfect winter holiday drink. You can make individual servings, or you can mix up a pitcher to share. We love using frozen cranberries to keep the drink cold without watering it down as much as ice does.
½ cup ginger beer
½ cup cranberry juice
1 Tbs. lime juice
1 lime wedge
¼ cup frozen cranberries
CBD
Ice
Add ice or a combination of ice and frozen cranberries to a copper mug. Next, pour in the ginger beer, cranberry juice, lime juice, and desired amount of CBD. Stir well, until all ingredients are mixed.
Put the lime wedge on the rim of the mug, and add the frozen cranberries to the glass for a garnish. If you'd like a little extra pizzazz, you can add a sprig of fresh rosemary as well.

Hot Apple & CBD Cider
Nothing warms up a cold winter night quite like hot cider, and this one is no exception. We love the combination of spices, apple, and orange, with just the right touch of sweetness.
1 ½ cup apple cider
¼ cup orange juice
1 Tbs maple syrup
2 cinnamon sticks
CBD
Orange and apple slices to garnish
In a small saucepan over medium heat, add the apple cider, orange juice, maple syrup, and 1 cinnamon stick. Bring to a boil, then remove from heat. Remove the used cinnamon stick and discard. Pour the cider mixture a mug, then add the remaining cinnamon stick, CBD, and orange and apple slices to garnish. Enjoy!

CBD Hot Chocolate
Who doesn't love a rich, flavorful hot chocolate? This recipe is a from-scratch recipe, but if you want something a bit quicker, you can always use a pre-made hot chocolate.
1 cup milk (can use coconut or almond milk)
1-2 cinnamon sticks
½ tsp nutmeg
¼ cup dark chocolate chips
1 Tbs unsweetened cocoa powder
CBD
Garnishes: candy canes, marshmallows, cinnamon sticks, toffee bits, caramel sauce, whipped cream

In a small saucepan over medium heat, add the milk, cinnamon sticks, and nutmeg. Slowly bring to a low boil, then remove from the heat. Add the chocolate chips, cocoa powder, and CBD, mixing until well blended and the chips are melted completely. Remove the cinnamon sticks.
Pour it into a mug, and add your garnishes. We love candy, marshmallows, and caramel sauce, but there are so many amazing combinations to try!

CBD Sangria
This is a fantastic recipe for entertaining, and great for any occasion year-round. While we recommend citrus and apple in the recipe, you can also try pears, grapes, and other fruits. Have fun with it!
1 red apple
1 navel orange (blood oranges are fantastic in the fall and winter)
1 lime
1 lemon
¼ cup of pomegranate juice
1 cup of orange juice
3 cups of white grape juice
2 cups sparkling water
Ice

Cut the fruits into very thin slices. After the fruit is sliced, you can cut them into quarters or sixths to better fit into your glassware. Next, add the fruit slices, juices, and sparkling water to a pitcher, and top it off with a bit of ice.
For each serving, fill the glass halfway with ice, then add the sangria, fruit, and desired amount of CBD. Stir and enjoy!

CBD Mojito
We just love the combination of mint and lime in this modified mojito recipe, and it's so quick and easy to make. You can use simple syrup or agave syrup.
1 cup seltzer (lime is preferred, but lemon or grapefruit are also good)
2-3 sprigs of fresh mint
1 fresh lime
1 Tbs of simple syrup or agave
CBD
Ice
In a cocktail mixer, add the mint and simple syrup, and muddle well. Cut the lime in half, and squeeze the juice from half the lime into the mixer—reserve the remainder to garnish. Cover the cocktail mixer with a pint glass, then shake for 20-30 seconds, until well mixed.
Fill a tall glass with ice, and strain the mixture over the ice cubes about ¾ full. Top it off with seltzer and stir in the desired amount of CBD. Slice the remaining lime into wedges and add to the glass to garnish, as well as a sprig of the fresh mint.

CBD Arnold Palmer
The Arnold Palmer is a classic, and we especially love it made from scratch with Earl Grey tea. The citrus and bergamot add an incredible flavor to this recipe!
1 teabag of Earl Grey tea
¼ cup of simple syrup
1 cup of lemonade
1 lemon, sliced
CBD
Ice
Brew a cup of Earl Grey tea. Fill a tall glass with ice and add the tea, simple syrup, lemonade, and CBD. Add a few slices of the lemons to garnish.
Final Thoughts
These are just a few of our favorite CBD cocktail recipes, and we know you'll enjoy them as much as we do!
Have you tried CBD-infused cocktails? We'd love to hear some of your favorite ideas—be sure to share them in the comments.
And to find just the right tinctures to add to your recipes, check out our online CBD store. Our oils come in numerous strengths and flavors, and we offer broad- and full-spectrum formulas, as well as USDA-certified organic CBD. Shop online now!