Meditation is an effective way to reduce stress and anxiety, and to achieve an overall feeling of wellness. But so many people report roadblocks to meditating, such as feeling too anxious to relax or having fleeting thoughts.
Working a high-pressure job, and maintaining a full schedule can make meditation difficult, but sometimes, having a bit of extra help can signal the body and mind to relax and enjoy this practice.
CBD, or cannabidiol, has been reported to induce relaxation of the mind and body, and when taken as part of a meditation routine, it may help to influence the calm, relaxed state of mind needed for this practice.
In this article, we're going to take a look at some of the benefits and challenges of meditation, and how CBD may help or enhance your experience.
Benefits of Meditation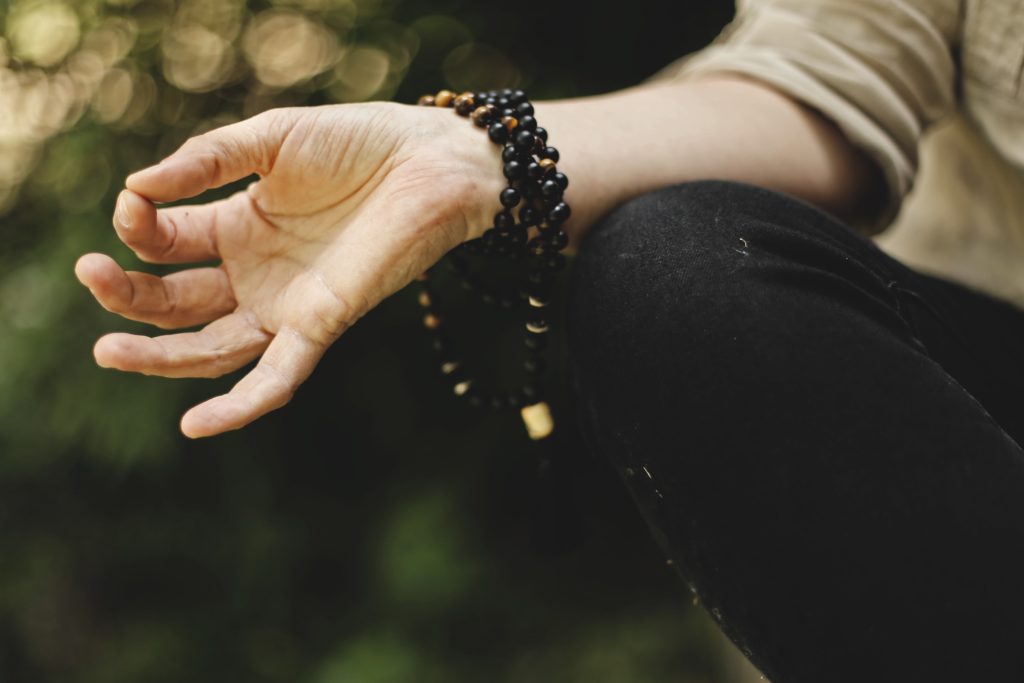 There are many reported benefits of meditation, and the good news is that you don't have to devote a lot of time every day to experience them. More than that, there are so many methods you can try, so you can experiment with different techniques until you find the one that suits you best.
Here are a few of our favorites:
A greater sense of relaxation throughout the day: Even though you might devote 10 minutes to your practice, with time, you may feel more at ease throughout the rest of your waking hours.
Reduction of stress and anxiety: Clearing your mind can reduce the "mind clutter" and pave the way for more mindful problem-solving and clarity. Additionally, it slows your breathing and heart rate, relaxes your muscles, and reduces cortisol levels.
Increased mindfulness: When your body and mind slow down, you have a greater feeling of control over your thoughts and reactions that aren't present under times of stress. Mindfulness can help flip the switch from "reaction" to "action," providing more control over your state of mind.
Higher levels of creativity: Creative blocks can be overcome with a meditation practice. A study conducted on undergraduate students found that 20-minute sessions made a positive difference in creative thinking in as few as five days.
Increased immunity: Stress, anxiety, and lack of sleep can greatly impact the immune system, putting you at higher risk for illness and infection. Meditation is so effective that nearly 80% of US medical schools use it as part of their patient education, research, and treatments.
Challenges of Meditation
Starting a meditation practice is empowering and can have a positive effect on your life, but facing a few challenges at first is common. With some practice and perseverance, like most new skills, meditation can be mastered.

Below are some of the most common challenges that come with starting a meditation practice, as well as some of the ways you can mitigate them:
Physical pain and discomfort: Settling into a relaxed state when you're in pain can be so difficult. You may have to start with shorter sessions, or use props such as a bolster or meditation pillow. With time, meditating can help to reduce inflammation and pain, and increase pain tolerance.
You're trying too hard: It's no secret we live in a stressed-out society where we strive for perfection and overachieve when it comes to just about everything. This type of mindset can get in the way of surrendering to relaxation, so ease up and start small before working your way up to hour-long sessions or difficult techniques.
You're too stressed and busy: Those who are too stressed out and busy, ironically, are those who probably need meditation most. But they're also the people who likely have the most difficulty settling into a routine. If this sounds like you, reaffirm to yourself that you have earned this time for wellness—schedule it, and make it a priority.
You're easily distracted: Distractions can feel even more intrusive when your goal is to clear your mind and focus on breathing. Turn off notifications, wear headphones, and gently guide yourself back to your practice when your mind wanders. A little meandering is completely normal, and soon, you will find that recentering your mind is quite easy.
You have no idea how to meditate: Even the pros started out as newbies at one point! One of the best ways to get started is to use a guided meditation. Check out YouTube, Spotify, or the apps on your phone—there is a technique for everyone, and with some experimentation, you'll find your groove soon enough.
Most importantly, give yourself some grace. That's what this is all about, after all.
How CBD Works
Now that we've covered the basics of starting a meditation practice, we're going to take a look at CBD and how it may complement your routine.
CBD is a phytocannabinoid that can be derived from the hemp or marijuana plant. In the United States, CBD that is extracted from the hemp plant and that contains less than 0.3% THC is considered federally legal (be sure to check with your state and local laws, which can vary).

CBD interacts with your body's endocannabinoid system, which regulates homeostasis. This means that when you experience pain, illness, or injury, your body produces natural endocannabinoids that bind to receptors that release hormones and other molecules to heal and regulate other processes. Phytocannabinoids such as CBD can also work with these receptors, but they don't produce a high feeling like THC.
Some of the reported benefits of CBD may include:
An improved sense of calmness
Getting a better night's sleep
Higher levels of creativity
Reduction of inflammation
Improved focus and concentration
Important to note is that CBD is not yet regulated by the FDA, so definitive claims cannot be made regarding its efficacy. However, its clinical field of study is growing, which we find very exciting.
How to Use CBD with Meditation
As you can already see, using CBD as a part of your meditation routine may be a helpful addition to your practice. Here, we'll provide some recommendations on how you can integrate these two self-care methods.

Start small: Start with a small dose, and as you observe how your body reacts, you can titrate your doses up until you've achieved the desired effect. Be patient, and be sure to speak with your medical provider if you're taking any other medications or supplements to avoid interactions.
Consistency is key: Numerous factors come into play when considering the type of CBD you use and how quickly it will work. Taking it every day can help with consistency. That said, if you prefer to use it just for meditating, taking it 30-60 minutes before your session is ideal.
Apply it topically: CBD absorbs through the skin relatively quickly, so you can apply it directly to the desired areas. Some products contain essential oils, which can add some aromatherapy to your session. Breathe deeply and slowly to take it all in!
Use a tincture, gummy, or softgel: Oral CBD products are incredibly popular, and you can try a few different kinds to see which you like best. Tinctures should be held under the tongue for a few minutes for quicker absorption. Gummies and softgels take a bit longer to absorb because they have to progress through the digestive tract.
Final Thoughts
Starting a meditation practice can be beneficial to your overall health and wellbeing, and we hope this information has helped you to get a good start on your new routine. CBD may play a role in your routine, and potentially help calm your mind and body to prepare for your practice.
Remember that with any new lifestyle change that patience and grace are crucial to your success. There are times that you'll feel frustrated (yes, even with meditation), but stuck with it, and it will become easier over time.
In the comments, we'd love to know if you use CBD as part of your meditation regimen, and what has worked for you!