As pet owners, we know that our four-legged friends feel separation anxiety when we leave them at home for the day. They may start to act out, or be more clingy than usual–it's so hard on everyone, especially as we make our way back into the workplace or go on vacations.
Here, we're going to discuss cat and dog anxiety and how CBD can help pets feel less anxious when their owners go back to work again. There's a lot of discussion around pet anxiety these days, with many pet owners wondering if cannabis could also help this transition become less stressful.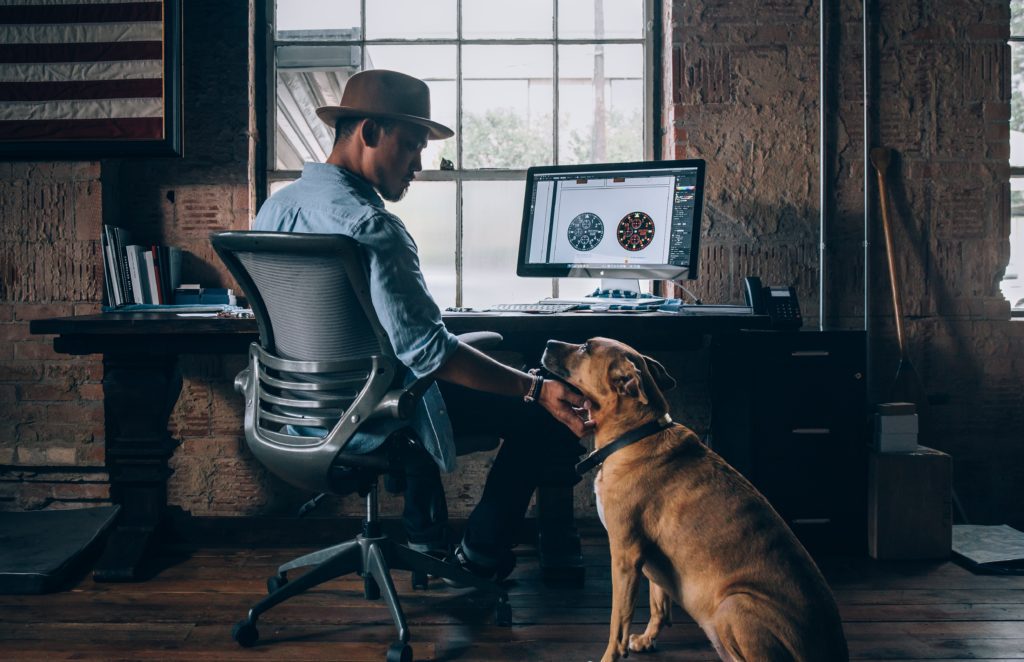 Cannabidiol is a natural compound that humans have been using for hundreds of years, and while it's not yet FDA approved, new studies are emerging every day regarding its efficacy.
Federally legal CBD comes from the hemp plant and doesn't contain THC (the psychoactive compound found in marijuana that causes a "high" feeling). This means pets will not experience psychoactive side effects when they take it. That said, keep an eye on your dog for any changes in mood or behavior.
What Causes Cat and Dog Anxiety?
Pets can get stressed when they are alone, and common triggers can be eliminated up front. Some breeds of dogs and cats are more likely to exhibit anxiety than others, so it's important for pet owners to be proactive.
Sometimes, your cat or dog's anxiety is caused by factors outside of your absence. For example, when a dog's previous owners abandoned them, they might show signs of anxiety and feel especially vulnerable.

Medications they're taking could also cause them to become stressed more than usual, and it may be worth a call to your vet to determine if there is an alternative treatment if this is the case.
In addition to feeling anxious because they're alone, environmental stress like thunder, house guests, nearby construction, and other loud noises your pet is going to have a harder time when left alone.
This can be an ongoing issue or something that's purely situational. But it is important to keep in mind that if you've been working from home and are going back to your workplace, there is a good chance your furry friend will exhibit some anxious behaviors.
Signs of Separation Anxiety in Pets
When you're at home with your pet, they may act perfectly happy, calm, and normal. However, when their human leaves for work for the day, anxiety can peak when triggers are introduced.

Not every homeowner comes home to a torn-up couch, plants all over the carpet, or trash that's been raided. Unless they have a pet cam, they may not know their pet is bothered by their absence at all.
If you suspect something is amiss during the day, you may consider getting a cam to keep an eye on your pet. Some of them come with a speaker so you can use an app on your phone to say hi to your anxious dog. They will love hearing the sound of your voice!
So what are some signs of separation anxiety in animals? Some signs include:
Destruction of objects in the home
Drooling a lot
Not eating like usual
Barking and whining
Excessive panting
Self-harm (biting and scratching)
Urinating or defecating inside the home (or not in the litterbox)
Restless when left behind
Trying to escape
Panting, pacing, and trembling
Pets may learn to adjust when their humans are gone and also learn new coping skills. But it might take time. If you are patient and do the things that you need to do consistently, then you and your pet can feel more at ease with this change and less afraid with time.
How to Calm an Anxious Dog or Cat
Relieving anxiety in pets requires a multi-pronged approach. You may consider using a medication or hemp oil to calm anxiety in dogs and cats, but working on calming the behavior is just as important.

One of the most important factors to keep in mind is that separation anxiety is based on fear in many dogs and cats, and not spite or anger. Your pet is afraid that you're gone, and it's impossible to explain that you'll be back at a certain time and everything is okay.
Because of this, you should not punish your dog for bad behavior. Punishment only exacerbates the issue, creating more fear and stress, which will lead to more anxious behavior.
Let's look at some other tips that may relieve your pet's stress.
Interactive toys that require your pet's attention
A safe space that's comfortable and quiet
Gates that keep him confined to a specific area of your home
Soothing sounds, such as a white noise machine, music, or TV
Room diffuser or pheromones
A variety of toys/activities that keep him busy
A comforting toy or blanket that smells like you
Play with him before and after you leave
Release excess energy with walks and exercise
Give your dog or cat treats for good behavior
Creating less anticipation around your departures and arrivals is key. Remove cues that trigger an alarm when you leave, such as grabbing your keys or making a big deal about saying goodbye. And when you come home, don't make it a big event–simply greet your animals and act as if you've been there the entire time.
If you have time to prepare, start leaving the house for a few hours at a time every day leading up to your first day back at work. This training will help your dog get used to you being away, especially if you gradually increase the time away over the span of a few weeks.

Creating this expectation can help identify anxiety behaviors, and you may have time to explore treatment options with your vet leading up to your departure.
And sometimes, a trip to your veterinarian is warranted anyway, to help rule out any other conditions that could be exacerbating this anxiety. There could be a physical health reason, such as pain, at play.
Why CBD Could Help Calm Your Cat or Dog's Anxiety
CBD is a natural compound that can help calm an anxious dog or cat. It interacts with the endocannabinoid system in your pet's body, bringing his nervous system back to homeostasis. Endocannabinoids can stimulate the production of serotonin, which is the molecule the body produces to regulate mood.
Dogs and cats can benefit from this natural cannabinoid in much the same way that humans do, with calming effects on their nervous system. It's important to know that cannabidiol won't get your pet high as THC would–it just helps them relax, and could help temper your dog's anxiety.
CBD is a compound in cannabis that has some reported medical benefits, although studies on this topic are relatively new. It does not have the same psychoactive effects as THC. It can be found in hemp or marijuana, but if it is from hemp, then you are getting the medical benefits without the psychoactive effects.
CBD Can be Added to Food or Given Orally

As pet owners, we often find it ironic that our pets eat some pretty gross things, but when it comes to taking an innocuous pill or drops, they suddenly turn into Gordon Ramsey.
The nice thing about CBD is that it comes in various formulations for your animal friend. Supplements, chews, and tinctures can come in meat-flavored bites, and you will find unflavored products as well. So even if your canine is a picky eater, they may still be able to take it without much trouble.
It can also be added to food or given orally by dropping the hemp oil on the tongue. You will find many recipes online for adding it into foods like canned tuna and chicken broth, which make for a fantastic treat. If a homecooked meal on the menu doesn't help ease your pet's anxiety, we don't know what will!
Why Quality Pet CBD Matters
It's no secret that CBD has emerged in a huge way, especially since the 2018 Farm Bill legalized industrial hemp products. You can find numerous items related to hemp online, in dispensaries, and even at gas stations.
Sifting through them can become pretty overwhelming, and can be difficult to figure out where to start your search.

We can't emphasize enough how much quality matters for your dog or cat. Because the FDA doesn't regulate cannabis yet, there isn't a lot of oversight in regard to the quality standards in the hemp plant itself, as well as the finished product.
Many reputable brands use third-party lab testing to verify quality, and we recommend you check out this article on what that means: How to Shop for the Safest CBD Products
Additionally, take a look at this article on how to use hemp products for your pet: CBD for Your Pets
While there are some things in life that are okay to buy on a budget, cannabis is not one of them. Some products slip through the cracks with heavy metals and other toxins, where others aren't even CBD (reports have found things such as olive oil and hemp seed oil, for example).
When it comes to your pet, it's always best to be safe rather than sorry. You want to give your anxious dog or cat something that is actually helpful to help calm them, and that's healthy.
Final Thoughts
Now that you have a better idea of what to expect with an anxious dog or cat, you can work on the steps needed to help them relax while you're away. Create a solid routine to ease them into it, and try to eliminate any triggers that cause their fear.
When your pet feels stress, they can't talk about it like we can, and they're going to act in ways that they know will get your attention. While some of these behaviors are mild and easy to treat, others can cause stress for the entire family.
Regardless of the severity of symptoms, there are a number of ways to turn that anxiety into a calm and happy situation. From medications to training to supplements, and even CBD, you have the power to help your dog or cat find their happy place when you're away.
Check out some of our products to see if any would work best for your pet. Whether you need something natural like hemp treats or want to try CBD oil drops instead, we want your four-legged friends feel less anxious during these transitions!